Robotic Surgery
Robotic surgery offers a minimally invasive approach to surgery allowing specialists to perform complex surgical procedures with increased accuracy and control than is possible through standard operative techniques.
Depending on the robotic system utilised, the technical advantages offered to surgeons can include enhanced visualisation through magnification, greater control and flexibility of instruments or improved precision through imaging and advanced surgical planning.
At Ramsay Health Care, we use the latest in robotic surgery across a number of our hospitals.
Your orthopaedic surgeon will advise you on whether or not robotic surgery is the right option for you.
The different types of surgical robots we use at Ramsay Health Care include NAVIO, Mako and ROSA.
The MAKO robot is used as a treatment option for adults living with early to mid-stage osteoarthritis that has not yet progressed to all three compartments of the knee. Robotic-arm assisted partial knee surgery delivers a minimally invasive procedure for early to mid-stage osteoarthritis, confined to one or two compartments of the knee.
Through its innovative use of technology, Mako robotic-arm assisted surgery takes partial knee resurfacing to a new level of precision, when compared to manual techniques.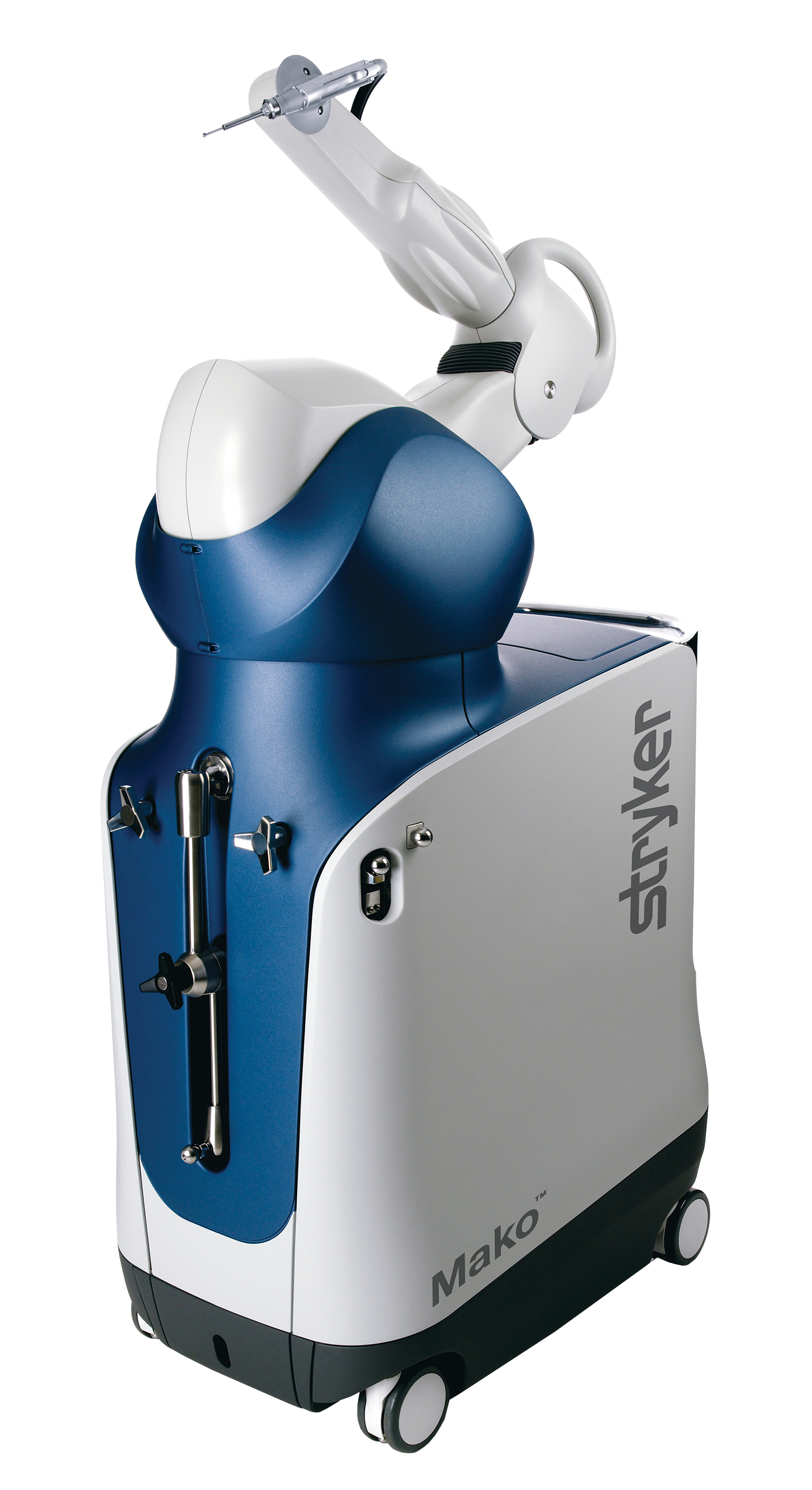 Stryker's Mako system enables the surgeon to complete a patient specific pre-surgical plan, assessing bone preparation areas and customised implant positioning using a CT scan of the patient's own knee. During the procedure, the system creates a three-dimensional, virtual view of the patient's bone surface and correlates the image to the pre-programmed surgical plan. As the surgeon uses the robotic arm, its tactile, auditory and visual feedback limits the bone preparation to the diseased areas and provides for real time adjustments and more optimal implant positioning and placement for each individual patient.
References
Information on this page has been supplied by Stryker Corporation.
Stryker Corporation (2017), available at: https://patients.stryker.com/knee-replacement/procedures/mako-robotic-arm-assisted-total-knee
Stryker Corporation (2017), available at: http://www.stryker.com/en-us/products/Orthopaedics/MakoRobotic-ArmAssistedSurgery/index.htm
The ROSA (robotic surgical assistant) supports surgeons in performing total knee arthroplasty (TKA ). The ROSA acts as an assistant in the operating room, combining computer navigation, soft tissue, 3D modelling and robotics into a single package. The ROSA allows surgeon to plan pre-operatively in 3D where to position the implant, which enhances precision and accuracy.
This system is designed to help your surgeon tailor the placement of knee implants for each individual patient. Data collected before and during surgery is used to ensure implant fit meets the unique specifications of the individual.